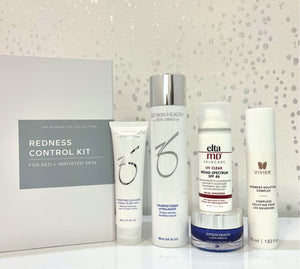 Soothes, and reduces redness, while at the same time providing basic essentials toward achieving healthy-looking skin.
Hydrating Cleanser (60 mL / 2 fl oz.)
Rich, creamy formula with a multi-humectant blend to help retain and replenish hydration to support skin barrier.
Exfoliating Polish (16.2 g / 0.57 fl oz.)
Ultra-fine magnesium crystals exfoliate dead skin cells for all skin types to instantly reveal smoother, softer, and glowing skin.
Calming Toner (180mL / 6 fl oz.)
Infuses sensitized + weak skin with lightweight hydration post-cleansing to support skin barrier function.
Redness Solution Complex (55ml / 1.83 fl oz)
An advanced complex that helps calm and soothe the appearance of redness, targeting both internal and external causes of redness such as increased blood flow.
UV Clear SPF 46 (48g / 1.7 oz)
Oil-free EltaMD UV Clear helps calm and protect sensitive skin types prone to discoloration and breakouts associated to acne and rosacea.